How to Wear a Cape
How to Wear a Cape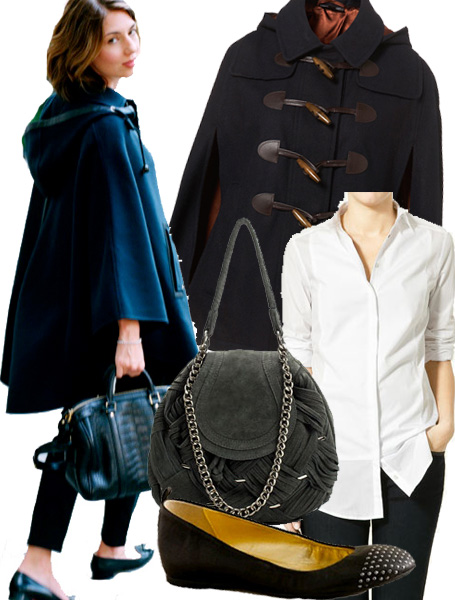 Pictured: Hooded Duffle Cape | $160 at Topshop, Shirt with Tailored Front | 25.99 GBP (approx $40.50) at Zara, Black Ribbed Ankle Leggings | $36 at Topshop, Studded Ballet Flats | $138 at J Crew, and City Bag with Straps | 59.99 GBP (approx $93.60) at Zara. Note: For US customers, Zara items are available in store only.
Supersize your style this Fall with a cape worthy of a style superhero. Deliciously dramatic, the cape delivers an exaggerated silhouette to play with - and keeps you warm all the while. Do as Sofia Coppola does and have some fun with the dramatic cape with an equally exaggerated silhouette. We love how she pairs her voluminous cape with something super skinny on the bottom, juxtaposing an elegant "uptown" cape with a "downtown" pair of leggings. Here's how to get the look:
1. Start with a tailored white button down shirt and a pair of skinny black leggings or trouser pants. Bonus points for picking a pair that hits just above the ankle.
2. Layer on your voluminous cape, creating a gorgeous big-over-small silhouette.
3. Finish off the look with a structured bag and a pair of ballet flats, which pair perfectly with the cropped pants.